Overview
We worked with design agency, SalterMitchell, to redesign their client, International Rhino Foundation's (IRF) website. IRF's current site serves numerous functions in support of organizational goals and, in so doing, targets many disparate audiences with diverse features and benefits. On the current version of the site, information, behavior flows and calls to action are not clearly defined for those audiences.
See the designs live: http://rhinos.org/
The Challenge
The redesigned rhinos.org needed to include simplified and modernized content, better organization of information, explicit targeting of audiences by goals, desired behaviors and expected benefits.
Outcome
My partner, Cam Waller, and I modernized the design of the site, identified key target audiences, and reorganized and consolidated content while retaining IRF's brand and differentiating factors. We reorganized the content of the site by conducting a site audit and creating a new site map, conducted a survey to define audiences, created wireframes and a clickable prototype based on feedback from client and survey, and delivered mockups.
Techniques & Skills
Site Audit, Site Mapping, User Research, Survey Creation, Persona Creation, Sketching, Wireframing, Prototyping, Usability Testing, Visual Design, Client Management
Tools Used
Sketchpad, Omnigraffle, Axure, Adobe Illustrator, Keynote, Google Forms
Duration
2.5 Weeks
Content Review & Site Map
We started by reviewing the content on the site and conducting a site audit. We found there were many redundancies on different pages and some information was hard to find where it was currently located. SalterMitchell also sent us a list of competitors they felt had the general layout and design IRF should move towards. Looking at these sites, we felt we needed to cut down the number of navigation items and create a footer to utilize space.
Above: Rhinos, IRF Programs and Shop remained unchanged. We changed Stay Informed to Learn More and added pages from other nav items there as well. We moved the Donate page under Get Involved given the large call to action buttons that appear in the header and footer.
Right: We consolidated the Blog and News because the news links were taking visitors away from the site. We moved the Blog, Professional Resources and About sections to the footer. Given our survey results, we wanted to make sure to focus on the cause and calls to action.
Above: We kept the Donate, Adopt and Contact buttons because they were the most important calls to action for IRF. They were also relevant to each of our target audiences.
User Research
SalterMitchell initially provided us with ten personas and we eventually narrowed them to three primary personas they felt were target audiences for IRF's site. To validate these personas, we created a survey and sent it to IRF's mailing list. We received 310 responses and found the following results to be the most relevant in uncovering our target audiences and features to include in our redesign.
We also asked participants if there were any features that were difficult to find or would like to see more of. We noticed a few common themes that emerged. We used this feedback to inform our designs and to provide suggestions to our client about site content.
Key Takeaways from Research
Most participants visited the site to conduct research.
A third persona emerged (retired visitors) that SalterMitchell had not yet explored.
Rhinos In The News, IRF Programs, and Operation Stop Poaching Now were the most useful pages to visitors.
Visitors want to read more updates regarding the poaching crisis.
Defining Target Audiences & User Flows
We started defining our target audiences based on the survey results and validated two of their personas (Andrea and Erica). We were not able to confirm SalterMitchell's third primary persona but instead uncovered a new one, Frank. We also made note of which pages they were likely to visit based on their goals.
Wireframes and Prototype
We sketched site pages separately and combined our design ideas to build our wireframes and prototype in Axure. These are my sketches after we combined our ideas:
Usability Test
We conducted usability tests on our prototype and key takeaways were:
Participants felt there was too much text under each of the icons on the homepage. They wanted a quick reference as to what each icon meant.
Most participants clicked on the Rhino icon on the homepage instead of using the navigation menu to find rhino information. When asked to use the navigation menu, it was not clear which menu item the information would be located under.
The Donate and Adopt buttons were used very frequently from the footer. Participants would scan the page and see the call to action at the bottom as a reminder.
We made edits to the mockups based on participants' feedback from our usability tests.
Mockups
We created a style tile to guide visual design. SalterMitchell provided us with a branding package but we felt it didn't encompass some of the adjectives IRF used to describe themselves so we made a few edits to portray a clean and modern style while still retaining their overall brand. We presented our mockups as a Before & After to our client to show the changes we made and why we made them based on our audiences' needs.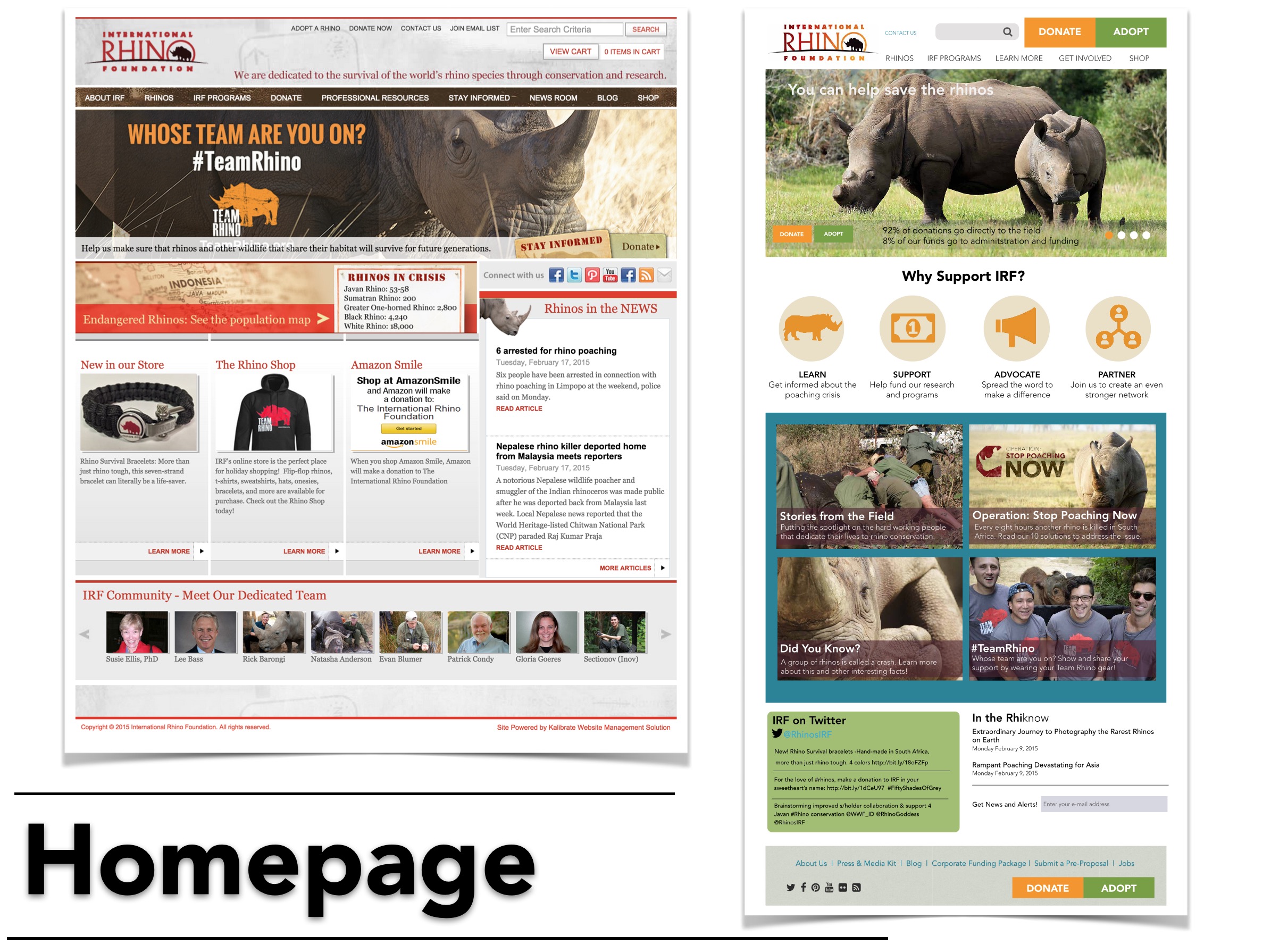 Client Feedback
Overall, SalterMitchell found our research and discovery of a new persona to be helpful and were pleased with our visual redesign of the site. One of the pain points they identified was that the donation process on the current site takes many steps to complete. They wanted us to consolidate our donation page further by tying the levels of donation to the amount being donated. We revised our prototype and delivered the following:
Next Steps
Mobile - As a next step, we would recommend designing a mobile version of the site. Currently about two-thirds of visitors are using a desktop to access the site so we decided to leave mobile design as a part of the next iteration.
IRF Community Hub - Survey takers wanted to be able to connect with each other to share their personal experiences with rhinos and the poaching crisis, on the ground updates, and other relevant information. With this feature, IRF would be able to receive instantaneous feedback from visitors to gauge areas of interest and be able to address feedback through continuous changes on their site.
More Interactivity - We designed key pages on the site but there are others that are text heavy that could benefit from interactivity to create stickiness.
Updating Content and Maintenance - Many survey takers felt information on the site, specifically rhino species and on the ground updates, were outdated. IRF would benefit from creating a maintenance schedule to regularly update content to keep visitors engaged and coming back to the website as the source of information regarding rhino conservation.